Photovoltaic
The use of solar energy has been increasing for many years and this trend is continuing. Photovoltaics has a wide range of uses, from major energy plants to small domestic applications.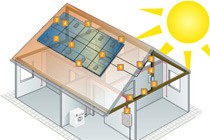 The fact that we recognised the potential of this market very early on and have built up specialist expertise in this area demonstrates once again the innovative tradition of our company. Our offering ranges from developing tailored products to advising you on planning and conversion matters.
After taking into account the full range of operational requirements, Lapp offers a specifically tailored range to suit photovoltaic systems, providing complete cabling from rooftop to cellar.

Cables, plugs and photovoltaic accessories – we are the system of choice!

In collaboration with users, the TÜV (German Association for Technical Inspection) and the North American UL approval organisation, a variety of tests have been carried out on our ÖLFLEX® cables, SOLAR cables, SKINTOP® cable glands and EPIC® SOLAR connectors to guarantee the highest quality standards. Our products can be used throughout the world and naturally also comply with the RoHS directive.
Should you have any questions, our specialists would be glad to assist you.