INDUSTRIAL COMMUNICATION WITH PROFINET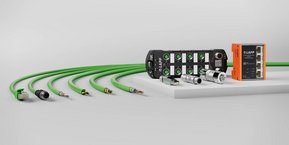 PROFINET is more than just a data transmission protocol based on Ethernet technology. It is a standard that establishes high-performance networks and as a result enables efficient automation in smart factories. PROFINET is a must in an industrial environment.
Would you like to find out what data communication with PROFINET looks like, what requirements you need to meet and what you need to keep in mind when selecting a product? We can answer your questions directly in the text below.
Ethernet and PROFINET – easily explained
What is Ethernet?
Ethernet is a data transmission technology for wired networks and is the standard for transmitting data packages in local home or office networks (LAN).
This means that data is sent and received via Ethernet. Ethernet does not work wirelessly like WiFi, but rather is only bundled.
The trade association IEEE has defined and standardised this network protocol and the structure of its packages with IEEE specification 802.3.
Ethernet forms the basic technology for the largest network in the world – the Internet – and is therefore the most commonly used standard in the world.
What is Industrial Ethernet?
However, the properties of the classic Ethernet from building cabling are not sufficient for industrial environments. Data packages should be reliably sent and received in office environments. However, smaller time delays have significant impacts here.
Industrial Ethernet (IE) is used in the industrial sector. With Industrial Ethernet, it is now possible to link the world of the office to the world of industry. This means linking individual machines with the control level, both in production and process automation. Industrial Ethernet allows data packages to be sent and received at the exact time required (determinism). This is because in automation systems with tough real-time requirements, package delays are simply unacceptable and cause serious conflicts.
In addition, the environmental conditions in the industrial sector are much more demanding than in offices. In production, high temperatures and humidity can often be counted on with oil. High dynamic requirements must also be met where cables are constantly moved. The components used must be sufficiently robust in order to function permanently and reliably here.
The entire system should also be so simple to use that it can be planned, installed and maintained by non-IT experts, i.e. automation engineers.
And how does PROFINET fit in?

PROFINET (Process Field Network) is a data transmission standard based on the Industrial Ethernet protocol. It is a special communication system that is ideal for use in industrial networks and is a leading player in Europe.
PROFINET is suitable for all automation technology and can be used in any industry.
Whereas Industrial Ethernet only governs the requirements of the data transmission protocol, the PROFINET standard describes more than just data transmission. The standard also includes statements regarding the permissible design and colour of cable outer sheaths and cores, defines plug connector faces and much more.
Incidentally, PROFINET is not to be confused with the very similar PROFIBUS, the protocol standard for Fieldbus communication.
PROFINET – Generation and standardisation
The industrial Ethernet system PROFINET was developed by Siemens AG together with the PROFIBUS & PROFINET User Organisation (PNO). This user organisation is now active worldwide and has hundreds of members.
LAPP also plays an active role in the respective working groups.
The PROFINET system is specified internationally in IEC 61918 'Industrial communication networks – Installation of communication networks in industrial premises' for cabling within and between automation islands and/or production islands. The specific infrastructure for PROFINET cabling and connection solutions is standardised in turn in IEC 61784-5-3. This applies for copper-based and fibre optic transmission media and wireless transmission. The 'PROFINET Cabling and Interconnection Technology Guideline' is created by a working group within the PNO. This guideline reflects IEC 61784-5-3.
What benefits does PROFINET offer?
PROFINET combines the benefits of many other protocol standards:
100% Ethernet compatibility
Flexibility in terms of functionality thanks to the modular design according to conformity classes
Interoperability of PROFINET-compliant components thanks to standardisation
Easily expandable systems
Easy integration of Fieldbus systems
Highly available systems
Low maintenance requirement of the network
Tried-and-tested safety and diagnostic concepts
Scalable real-time communication
Components with certification guarantee a high level of system reliability

Which PROFINET variants are available?
The most favoured PROFINET system is PROFINET IO (input/output) from 2006. The PROFINET IO communication system has a modular design and can be set up in various variants. The varying scope of functions enable a corporate network to be designed in a variety of ways. As every automation system sets its own requirements for data transmission, the system operator decides which functionality is required based on so-called conformity classes.
What different Conformance Classes does PROFINET offer?
The possible applications are divided into four conformity classes, which determine, for example, the device types to be used (controller, device, supervisor), the transmission medium used and the type of communication. This ensures that the components of a class are always compatible and meet the necessary requirements. A class supplements the functional scope of the class below with other functionalities.